Rule One Proteins R1 Creatine 75 servings
35.00 лв.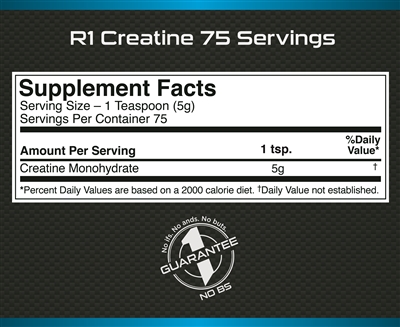 Description
R1 Creatine delivers the most effective performance enhancing supplement (creatine) in the most extensively researched form (monohydrate). Better still, our creatine monohydrate powder is micronized to keep it suspended longer for easier drinking. If greater training capacity and lean mass are what you're after, take a strong look at R1 Creatine.
Directions: Mix one (1) scoop with 6-8 oz. of your favorite cold beverage or protein powder and consume before, during, or after training.
Recommendation: Team Power & beauty encourages you to contact our consultants that are available in our shops. Thereby you will achieve the optimization of your individual intake consistent with your training and eating plan, as well as other individual characteristics typical of each person!
Storage: Due to the complex structure of the active ingredients in this product, shake once a week and before use to ensure proper ratio of ingredients in the mixture and effectiveness per dose.
Do not use if compromised integrity. Exposure to heat, light or air can affect the taste or smell, so keep away from direct sunlight or heat and store in a cool dark place. Keep sealed when not in use.
Warning: This product is intended solely as a dietary supplement. Do not use as a sole source of nutrition. Keep out of reach of children.
Link to the original site:https://www.ruleoneproteins.com/r1-creatine/