MusclePharm Combat Protein Powder 2lb
55.00 лв.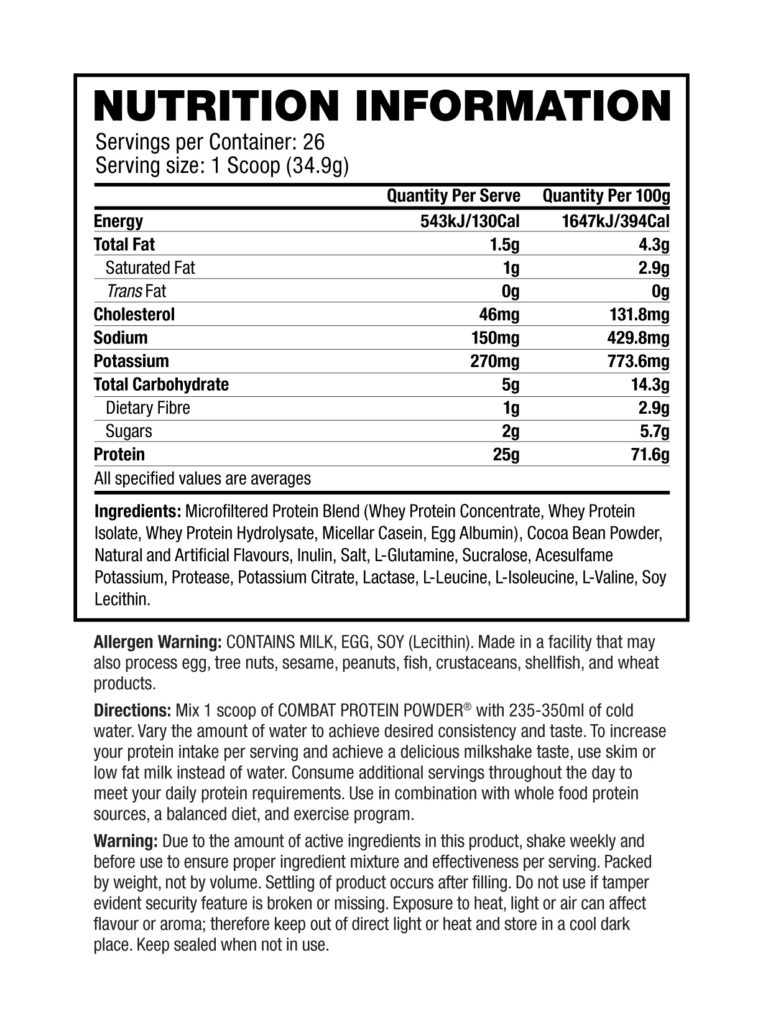 Description
Additional information
Reviews (0)
Description
FUELS MUSCLES & PERFORMANCE FOR HOURS!
THIS IS 25 GRAMS OF HIGH-QUALITY PROTEIN IN A TASTY, EASY-TO-MIX SHAKE, FORMULATED FOR ATHLETES AND ACTIVE PEOPLE.
People who train hard demand a superior and more effective protein. To maximize lean muscle growth and recovery ensuring proper protein utilization, MusclePharm® scientists fortified Combat Protein Powder® with a variety of protein blends that digest at varying rates—this helps fuel your muscles longer. The great-tasting, easy-mixing digestive blend is fine-tuned for true nutrient utilization–a step ahead in protein powder technology. Most other protein products seem to be okay with the status quo, the minimum. But ask yourself: do you give your workouts minimum effort? MusclePharm® scientists over-delivered. Combat Protein Powder® is precision-engineered with whey protein concentrates, hydrolysates and isolates, egg albumin, and micellar casein. These help create a muscle-building environment for longer periods of time, which results in greater muscle building, recovery and performance.
Directions: Mix 1 scoop   with 8–12 oz. of cold water. Vary the amount of water to achieve desired consistency and taste. To increase your protein intake per serving and achieve a delicious milkshake taste, use milk instead of water. Consume additional servings throughout the day to meet your daily protein requirements. Use in combination with whole food protein sources, a balanced diet, and exercise program

Recommendation: Team Power & beauty encourages you to contact our consultants that are available in our shops. Thereby you will achieve the optimization of your individual intake consistent with your training and eating plan, as well as other individual characteristics typical of each person!
Storage: Due to the complex structure of the active ingredients in this product, shake once a week and before use to ensure proper ratio of ingredients in the mixture and effectiveness per dose.
Do not use if compromised integrity. Exposure to heat, light or air can affect the taste or smell, so keep away from direct sunlight or heat and store in a cool dark place. Keep sealed when not in use.
Warning: This product is intended solely as a dietary supplement. Do not use as a sole source of nutrition. Keep out of reach of children.
Link to the original site:https://musclepharm.com/collections/all-products/products/combat-protein-powder-2?variant=37546983946