BSN N.O.Xplode 3.0 50 serving
80.00 лв.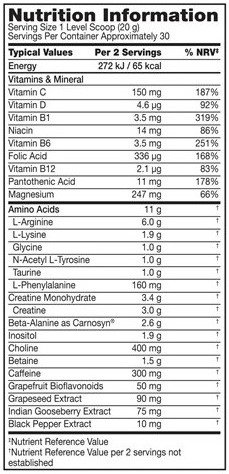 Description
Additional information
Reviews (0)
Description
In 2004, BSN® completely changed the world of sports nutrition forever when it presented the first complete pre-training supplement NO-XPLODE®. BSN® has been aiming to work hard in recent years to provide the next evolutionary pre-training formula.
"We have been discussing the addition and refinement of our formula on the basis of consumer needs and their feedback to develop a stronger and better formula designed to help deliver explosive energy, increased durability and maximum productivity through our new blend" Master Performance. "In fact, over 75% of users who have tried the formula during the development process say that the new product delivers the right amount of muscle pumping, energy and endurance. our work with a step forward to create a better flavor, creating the new NO -XPLODE® formula with great taste and superb solubility. "
Here's what the new BSN N.O Explode 3.0 formula provides
Explosive energy:
To maximize every moment of your workout and achieve your best results, you need energy. It is equally important to channel this energy and provide a brain-muscle connection. Thermic Energy ™ Aperture helps to deliver explosive energy, increasing exercise intensity from start to finish.
Enhanced durability:
Your body reacts to the amount of work you do at a certain time. Whether you're in the gym or on the field, Endura Shot ™ blended with a concentrated amount of beta-alanine contributes to increasing the capacity of your workout, allowing you to exercise longer.
Maximum performance:
Muscle strength, strength and endurance are aided by creatine in the body.
The innovative technology ingredient Myogenic Matrix ™, featuring an advanced creatine combination, helps every athlete reach his goal.
How to use: As a dietary supplement, take 1 spoonful of 250-300 ml. cold water and consume 20-30 minutes before workout. Do not take more than 2 scoops at a time or in 1 day.
Note: This product is not suitable for people with high blood pressure, heart problems and pregnant women. If you suffer from any chronic illness, consult a doctor before using it.
Recommendation: The Power & Beauty team advises you to contact our consultants at your company's convenience stores. This will optimize your individual intake according to your training and nutrition plan as well as other individual features specific to each person!
Do not use if integrity is impaired. Exposure to heat, light or air may affect the taste or aroma, so keep away from direct light or heat and store in a dark and cool place. Keep sealed when not in use.
Warning: This product is only intended as a food supplement. Do not use as the sole source of nutrition. Keep out of the reach of children.
Link to the manufacturer's website: http://www.gobsn.com/product/noxplode.html