UNIVERSAL Amino 2700 350 tablets
65.00 лв.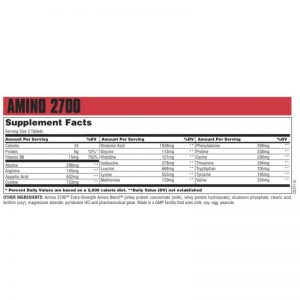 Description
Amino 2700 is high in amino acids in L-form and peptide chains further enriched with vitamin B6.
Amino 2700 is derived from lactalbumin and has a very high degree of absorption.
They have a strong muscle-building effect and are essential for all those looking for muscle mass. Enriched with L-Ornitine HCL and Vitamin B6.
Directions for use: Take 3 tablets, 3 times a day on an empty stomach and after workout (10-15 tablets per day)
Recommendation: The Power & Beauty team advises you to contact our consultants at your company's convenience stores. This will optimize your individual intake according to your training and nutritional plan, as well as other individual features specific to each person!
Do not use if integrity is impaired. Exposure to heat, light or air may affect the taste or aroma, so keep away from direct light or heat and store in a dark and cool place. Keep sealed when not in use.
Warning: This product is only intended as a food supplement. Do not use as the sole source of nutrition. Keep out of the reach of children.
Link to the official site: https://www.universalusa.com/products/amino-2700