Twinlab Super Rich Yeast Plus 16 oz.
33.00 лв.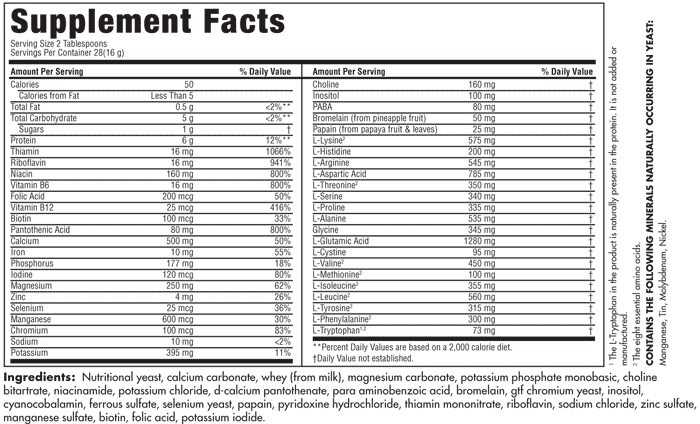 Description
Twinlab Super Rich Yeast Plus Bio-formed ™ GTF Chromium (Glucose Tolerance Factor) and Bio-formed ™ Selenium recognized
as an excellent source of key nutrients. One dose (16 grams) delivered 25 microgram selenium and 100 mcg GTF chromium, obtained from beer yeast. One dose also provides essential amino acids, vitamins, minerals and trace elements. Also, the protein-containing digestive enzymes, papain and bromelain, which are obtained from the fruit of the papaya and pineapple bromelain Papain and serve to degrade the proteins naturally concentrated
foods, such as yeast. * These enzymes break down proteins
to amino acids which are then used as building blocks for enzymes, hormones and tissues. * Without sufficient protein-degrading enzymes, to give an amino acid deficiency. Twinlab Super Rich Yeast Plus with Bio-derived GTF Chromium and Selenium also e, with
incredible taste.
No preservatives, added fructose or honey.
Directions: Sprinkle 2 tablespoons on your food by using it as a seasoning or mix it with milk, juices, soups, sauces, dressings, etc .Not to be taken more than twice a day.
Recommendation: Team Power & beauty encourages you to contact our consultants that are available in our shops. This will achieve the optimization of your individual intake consistent with your training and eating plan, as well as other individual characteristics typical of each person!
Storage: Due to the complex structure of the active ingredients of this product, shake once a week and before use to ensure proper ratio of ingredients in the mixture and effectiveness per dose.
Do not use if compromised integrity. Exposure to heat, light or air can affect the taste or smell, so keep away from direct sunlight or heat and store in a cool dark place. Keep sealed when not in use.
Warning: This product is intended solely as a dietary supplement. Do not use as a sole source of nutrition. Keep out of reach of children.
Link to the original site:  https://www.twinlab.com/