Twinlab L-Carnitine Fuel 1500 Wildberry
55.00 лв.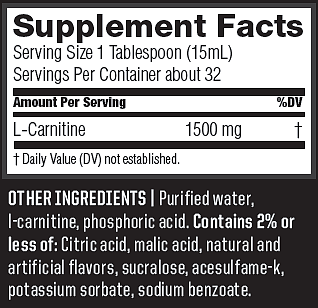 Description
The Twinlab L-Carnitine 1500 powerful formula delivers 1,500 mg of high-quality, ultra-concentrated L-Carnitine, which helps fat burning, energy and durability without stimulant effects. .
• 1500 mg L-carnitine per serving, 32 servings per bottle
• Powerful formula helps to burn fat and improve metabolism
• Increases energy, endurance and athletic performance
• C 3 fresh, delicious flavor
Directions for use: Take one dose 30min before loading.
On weekends, take one dose in the morning before breakfast.
Recommendation: The Power & Beauty team advises you to contact our consultants at your company's convenience stores. This will optimize your individual intake according to your training and nutritional plan, as well as other individual features specific to each person!
Storage: Due to the complex structure of active ingredients in this product, shake once a week and before use to ensure proper mixing of the ingredients in the mixture and their effectiveness in a single dose.
Do not use if integrity is impaired. Exposure to heat, light or air may affect the taste or aroma, so keep away from direct light or heat and store in a dark and cool place. Keep sealed when not in use.
Warning: This product is only intended as a food supplement. Do not use as the sole source of nutrition. Keep out of the reach of children
Link to manufacturer's site: https://www.twinlab.com/product-page/l-carnitine-fuel-1500