Rule 1 R1 Pre Amino Naturally Flavored 30serving
39.00 лв. – 50.00 лв.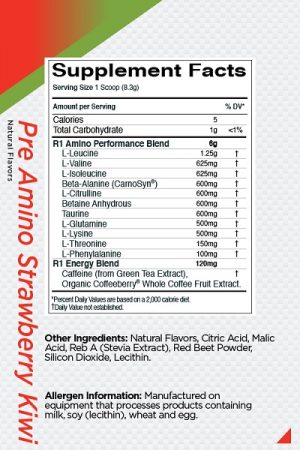 Description
Additional information
Reviews (0)
Description
NATURALLY FLAVORED ANYTIME ENERGIZED AMINO FORMULA
Part amino. Part energy. Entirely versatile. Use it in place of coffee in the morning or afternoon, a serving before a long study session, or a double helping before a tough HIIT cardio workout. No matter how or when you use it, R1 Pre Amino provides an essential amino acid boost and natural-source caffeine to help get you started and keep you going.
ZERO Artificial Flavors
ZERO Sweeteners
ZERO Synthetic Colors
ZERO Sugars
ZERO Fillers
Naturally flavored and sweetened with stevia
6g essential amino acid (EAA) blend*
2.5g BCAAs*
120mg energy blend with coffee fruit and green tea extracts*
CarnoSyn® beta alanine, citrulline, and glutamine
Full panel transparency
Carefully blended and packaged in in an NSF GMP facility in the USA
Note: This product is not suitable for people with high blood pressure, heart problems and pregnant women. If you suffer from any chronic illness, consult a doctor before using it.
Recommendation: The Power & Beauty team advises you to contact our consultants at your company's convenience stores. This will optimize your individual intake according to your training and nutritional plan, as well as other individual features specific to each person!
Do not use if integrity is impaired. Exposure to heat, light or air may affect the taste or aroma, so keep away from direct light or heat and store in a dark and cool place. Keep sealed when not in use.
Warning: This product is only intended as a food supplement. Do not use as the sole source of nutrition. Keep out of the reach of children.
Link to the manufacturer's website: https://www.ruleoneproteins.com/r1-pre-amino-naturally-flavored/