Optimum nutrition 100% Whey Gold Standard 5lb
108.00 лв.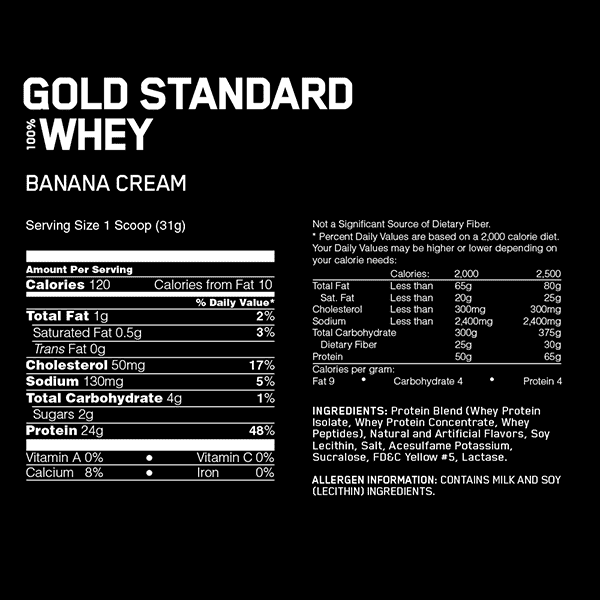 Description
Additional information
Reviews (0)
Description
Whey Protein Isolates (WPI) are the purest form of whey protein that currently exists. WPIs are costly to use, but rate among the best proteins that money can buy. That's why they're the first ingredient you read on the Gold Standard 100% Whey™ label. By using WPI as the primary ingredient along with premium ultra-filtered whey protein concentrate (WPC), we're able to pack 24 grams of protein into every serving to support your muscle building needs after training. ON's attention to detail also extends to mixability. This superior quality powder has been instantized to mix easily using a shaker cup or just a glass and spoon. There's no doubt that this is the standard by which all other whey proteins are measured.
Whey Protein Isolate (WPI) Main Ingredient
Whey Protein Microfractions from Whey Protein Isolates & Ultra-Filtered Whey Protein Concentrate
Over 4 Grams of Glutamine & Glutamic Acid in Each Serving
More Than 5 Grams of the Naturally Occurring Branched Chain Amino Acids (BCAAs) Leucine, Isoleucine, and Valine in Each Serving
The "Gold Standard" for Protein Quality

Directions: Before a workout after workout after getting together with food rich in protein.
Recommendation: Team Power & beauty encourages you to contact our consultants that are available in our shops. Thereby you will achieve the optimization of your individual intake consistent with your training and eating plan, as well as other individual characteristics typical of each person!
Storage: Due to the complex structure of the active ingredients in this product, shake once a week and before use to ensure proper ratio of ingredients in the mixture and effectiveness per dose.
Do not use if compromised integrity. Exposure to heat, light or air can affect the taste or smell, so keep away from direct sunlight or heat and store in a cool dark place. Keep sealed when not in use.
Warning: This product is intended solely as a dietary supplement. Do not use as a sole source of nutrition. Keep out of reach of children.
Link to manufacturer website: http://www.optimumnutrition.com/en_US/products/gold-standard-whey#dIZ1BF3QWYPyRY3C.97