Nutrex Lupo-6 Dynamix 60 doses
100.00 лв.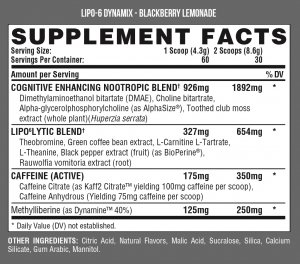 Description
Additional information
Reviews (0)
Description
Nutrex Lipo-6 Dynamix
LIPO-6 DYNAMIX is a unique two in one formula: a powerful thermogenic fat burner and rapid-action energy igniter. It can help you reach your weight loss goals quicker and powers you through the most grueling workout sessions. Think of a super-strong pre-workout with some serious fat-burning properties.   LIPO-6 DYNAMIX uses a synergistic matrix of scientifically-researched compounds. We've included a robust ingredient combination to boost metabolism, increase fat burning, reduce fat storage, and greatly enhance energy levels. One special feature is the high dose of Dynamine, which delivers intense, rapid-action but also long-lasting energy. You'll be able to work harder each day, have the energy to crush it in the gym, burn even more calories and lose weight faster. This formula will really get you lean and powered up at the same time!
Directions: Mix 1 dose (1 scoop) of the product with 250 ml of cold water and take 30-45 minutes before workout.
Note: This product is not suitable for people with high blood pressure, heart problems and pregnant women. If you suffer from any chronic illness, consult a doctor before use.
Recommendation: Team Power & beauty encourages you to contact our consultants that are available in our shops. Thereby you will achieve the optimization of your individual intake consistent with your training and eating plan, as well as other individual characteristics typical of each person!
Storage: Due to the complex structure of the active ingredients in this product, shake once a week and before use to ensure proper ratio of ingredients in the mixture and effectiveness per dose.
Do not use if compromised integrity. Exposure to heat, light or air can affect the taste or smell, so keep away from direct sunlight or heat and store in a cool dark place. Keep sealed when not in use.
Warning: This product is intended solely as a dietary supplement. Do not use as a sole source of nutrition. Keep out of reach of children.
Link to the original site: https://www.nutrex.com/product/lipo-6-dynamix/