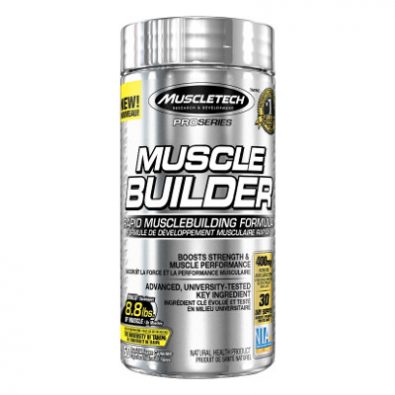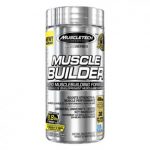 Изчерпан !MuscleTech Pro Series Muscle Builder 30 capsules Regular price 80.00 BGN Promo price 40.00 BGN
0.00 лв.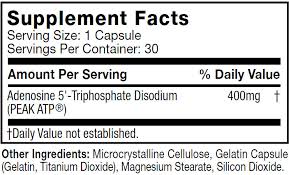 Description
AWARD-WINNING INGREDIENT COMBINATION
On May 6 in Geneva, Switzerland BetaTOR and PEAK ATP received further confirmation of their effectiveness by being awarded Sport and Energy Finished Product of the Year at the 2015 NutraIngredients Awards.
NutraIngredients.com is the key news source for the functional food and beverage and dietary supplement industries. The NutraIngredients Awards reward true innovation and cutting-edge research in healthy foods, supplements and nutrition. The awards are judged by a diverse and independent panel of experts, including some of the most respected doctors, analysts, strategists and CEOs in the international nutrition and dietary supplement industry!

POWERFUL MUSCLEBUILDING RESULTS WITH PEAK ATP
Each serving of MuscleTech Pro Series Muscle Builder delivers 400mg of adenosine 5′-triphosphate disodium (PEAK ATP) for enhanced strength and muscle performance. PEAK ATPis a powerful and unique ingredient that not only delivers some of the most intense muscle pumps you've ever felt, it also deliver real gains in strength and muscle!
Research suggests this key ingredient increases anabolic signaling by activating the mTOR pathway – one of the body's protein synthesis regulators, energy sensors and nutrient sensors of amino acid availability — a vital step in musclebuilding.
How Muscle Builder works
The first pathway helps increase blood flow and involves an increase of nitric oxide production to induce extreme vasodilation, delivering more oxygen to hard-working muscles — this causes the best muscle pumps you will ever experience!
The second mechanism of action is to help your muscles control ionic flux during contractions so they can recover and contract faster. Under conditions of fatigue, oxygen availability and calcium release may decline in skeletal muscle, negatively affecting overall performance. Calcium is necessary for continued muscular contraction. Therefore, supplementing with ATP may lead to better calcium handling in your muscles for improved performance.
The third and most important pathway of action is when Muscle Builder triggers the anabolic mTOR pathway. mTOR stands for Mammalian Target of Rapamycin, one of the body's protein synthesis regulators, energy sensors and nutrient sensors of amino acid availability — it's vital for musclebuilding. mTOR is activated when ATP levels are high, and blocked when ATP levels are reduced
Directions: Take 1 serving (1 capsule) with a glass of water 30 to 45 minutes before your workout. On non-training days, take 1 serving on an empty stomach before breakfast. Do not exceed 1 serving in a 24-hour period. Read the entire label before use and follow directions provided
Recommendation: Team Power & beauty encourages you to contact our consultants that are available in our shops. Thereby you will achieve the optimization of your individual intake consistent with your training and eating plan, as well as other individual characteristics typical of each person!
Do not use if compromised integrity. Exposure to heat, light or air can affect the taste or smell, so keep away from direct sunlight or heat and store in a cool dark place. Keep sealed when not in use.
Warning: This product is intended solely as a dietary supplement. Do not use as a sole source of nutrition. Keep out of reach of children.
Link to the original site:  http://international.muscletech.com/products/pro-series/muscle-builder/