Labrada Elasti Joint 30 doses (taste Grapes)
80.00 лв.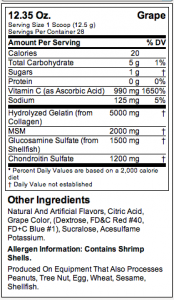 Description
Anyone who trains or has fun with a sport feels stiff and tense in the joints. ELASTI JOINT is a product designed to relieve tension in the joints and keep them healthy. The formula contains ingredients that have proven to be effective for many.
With ELASTI JOINT you get:
– Soluble formula (powder) for better absorption with incredible taste
– Deliver everything you need in effective doses
– Supports the joints of the joints and the judicious tissues
Directions: Mix one measuring spoon of ELASTI JOINT with cold water. Stir until the product is completely dissolved. Do not take more than two doses a day!
Recommendation: Team Power & beauty encourages you to contact our consultants that are available in our shops. Thereby you will achieve the optimization of your individual intake consistent with your training and eating plan, as well as other individual characteristics typical of each person!

Storage: Due to the complex structure of the active ingredients in this product, shake once a week and before use to ensure proper ratio of ingredients in the mixture and effectiveness per dose.
Do not use if compromised integrity. Exposure to heat, light or air can affect the taste or smell, so keep away from direct sunlight or heat and store in a cool dark place. Keep sealed when not in use.
Warning: This product is intended solely as a dietary supplement. Do not use as a sole source of nutrition. Keep out of reach of children.

Link to the original site: https://www.labrada.com/store/ElastiJoint.html