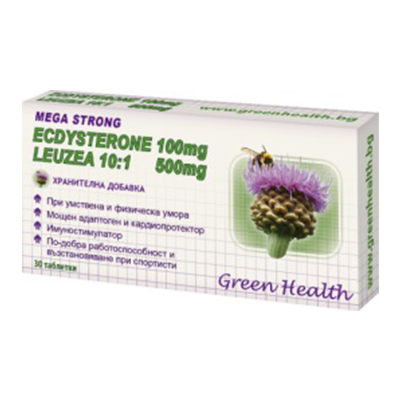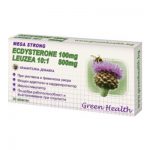 Green Health Ecdysterone & Leuzea 30 tablets
30.00 лв.
Description
Ecdysterone and Levzeya powerful combination is based on many studies that can increase your genetic potential. In athletes it increases endurance, reflexes and concentration. Fatigue occurs later and shortens the recovery period (1966 Saratikov.). Levzeya is officially listed in the Russian Pharmacopoeia. The combination increases the working capacity of tired muscles, relieves neurosis and has anabolic and adaptogenic effect (1995 Gadzhiev.).
Ecdysterone and Levzeya increases the speed, strength and function of the muscular system. Athletes from Eastern bloc have used as non-hormonal, natural anabolik, adaptogen and biostimulant.
Directions: As a dietary supplement take 1 tablet daily. In the athletes, the dose may be increased to 2-3 tablets per day in divided doses.
Recommendation: Team Power & beauty encourages you to contact our consultants that are available in our shops. Thereby you will achieve the optimization of your individual intake consistent with your training and eating plan, as well as other individual characteristics typical of each person!
Do not use if compromised integrity. Exposure to heat, light or air can affect the taste or smell, so keep away from direct sunlight or heat and store in a cool dark place. Keep sealed when not in use.
Warning: This product is intended solely as a dietary supplement. Do not use as a sole source of nutrition. Keep out of reach of children.
Link to the original site: http://bit.ly/2iI4RER