BSN ENDORUSH PRE-WORKOUT pineapple 30 serving
60.00 лв.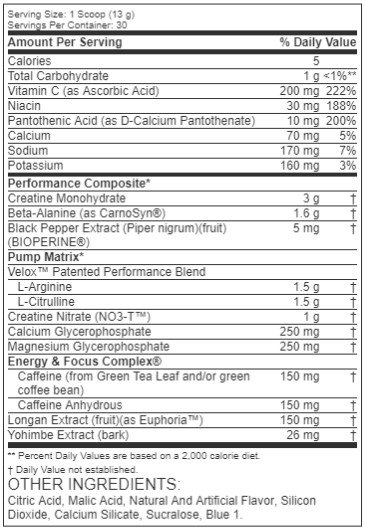 Pleasant taste;
Content 100% off label;
4.5g "Inflation Matrix";
300mg caffeine content distributed 50/50 between natural sources as well as anhydrous;
Unique ingredients, such as Euphoria Longana, used for centuries by the "ancient" peoples;
Description
Pre-training formula providing energy and improved performance
Discover your opportunities!
Train No Limits!
In the content you will find only important ingredients and nothing superfluous.There is a "new era" in pre-training products! We present you the most advanced formula of BSN – ENDORUSH, a "potent" combination of tested and quality ingredients that will contribute to your ultimate workout Experience With BSN Endorush Preworkout, you will be able to overcome any challenge facing you!
Bounce your opponents!
Take steps to win by using the "advanced" formula embedded in ENDORUSH, including 3g Creatine Monohydrate, 1g Creatine Nitrate, 1.6g Beta-Alanine, "Longan Euphoria" extract and "VELOX" patented "pumping" technology. for increased energy and "focus" during your workout!
Directions: Take 1 scoop of 250-300 ml as a food supplement. water 15-30 minutes before workout. To maintain hydration of the body during training, take plenty of water. Total caffeine from all sources is equivalent to 300 mg. per dose.
Note: This product is not suitable for people with high blood pressure, heart problems and pregnant women. If you suffer from any chronic illness, consult a doctor before using it.
Recommendation: The Power & Beauty team advises you to contact our consultants at your company's convenience stores. This will optimize your individual intake according to your training and nutritional plan, as well as other individual features specific to each person!
Storage: Do not use if integrity is impaired. Exposure to heat, light or air may affect the taste or aroma, so keep away from direct light or heat and store in a dark and cool place. Keep sealed when not in use. Due to the complex structure of active ingredients in this product, shake once a week and before use to ensure the correct ratio of ingredients in the mixture and their effectiveness in one dose.
Warning: This product is only intended as a food supplement. Do not use as the sole source of nutrition. Keep out of the reach of children.