Athlet's Nutrition DAA 90 tab.
40.00 лв.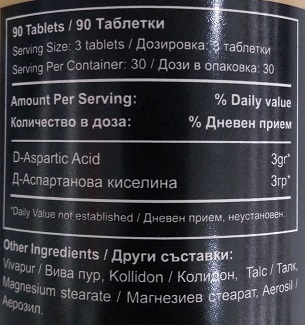 Description
Acceptor action in this body in two phases: L-capability and D-caption. These two types of pavements are not the only ones to be seen in the past.
D-Aspartic acid, increasing the production of luteinizing hormone (LH) and growth hormone (GH), as well as the secretion of testosterone by direct stimulation of Leydig cells in the testicles.
DAA is more known as the D form of aspartic acid. The body can produce DAA from non-essential L-aspartic acid. The highest concentration of DAA is contained in the testicles, the pituitary gland and the hypothalamus – all of them involved in the production of the hormone testosterone.
Directions: As a food supplement, take 3 tablets a day with breakfast. Do not take more than 3 tablets within 24 hours!
Recommendation: The Power & Beauty team advises you to contact our consultants at your company's convenience. This will optimize your individual intake according to your training and nutrition plan, as well as other individual features specific to every person!
Do not use if integrity is impaired. Exposure to heat, light or air may affect the taste or aroma, so keep away from direct light or heat and store in a dark and cool place. Keep sealed when not in use.
Warning: This product is only intended as a food supplement. Do not use as the sole source of nutrition. Keep out of the reach of children.
Link to original site: http://bit.ly/2wg0Yhm