API Gainer Xtreme 5lb
100.00 лв.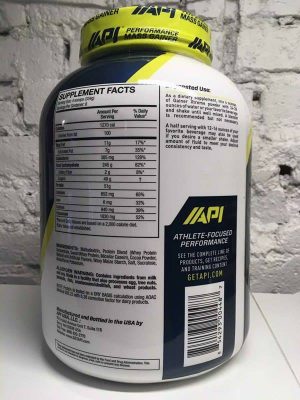 Description
Additional information
Reviews (0)
Description
Many trainees encounter difficulty in gaining pounds just like you. You tried everything but with limited success. Everything seems correct – nutrition, recovery, workouts, supplements, but nothing happens. E API wants to help you. Protein is very important for muscle mass growth and helps create a positive nitogenic balance. This positive nitrogenetic balance is important for building and restoring the muscle.
Our Hard Gainer formula is designed to move you forward. With stunning 1245 calories and 50 grams of protein per dose, your body has no chance to refuse the table. Gainer Xtreme is loaded with a complex of carbohydrates to maintain your energy levels, also have a little sugar that allows you to recover glycogen after a workout. Our formula comes complete with BCAA to help with recovery.
Directions: Mix four measuring spoons with 700-1400 ml. from your favorite drink. Shake well for the best taste and consistency. Take one dose in the morning, before and / or after a workout.
Recommendation: Team Power & beauty encourages you to contact our consultants that are available in our shops. Thereby you will achieve the optimization of your individual intake consistent with your training and eating plan, as well as other individual characteristics typical of each person!
Storage: Due to the complex structure of the active ingredients in this product, shake once a week and before use to ensure proper ratio of ingredients in the mixture and effectiveness per dose.
Do not use if compromised integrity. Exposure to heat, light or air can affect the taste or smell, so keep away from direct sunlight or heat and store in a cool dark place. Keep sealed when not in use.
Warning: This product is intended solely as a dietary supplement. Do not use as a sole source of nutrition. Keep out of reach of children.
Link to original site: http://www.getapi.com/products/api-gainer-xtreme