GAT Sport Radical Mass 10lb Regular
170.00 лв.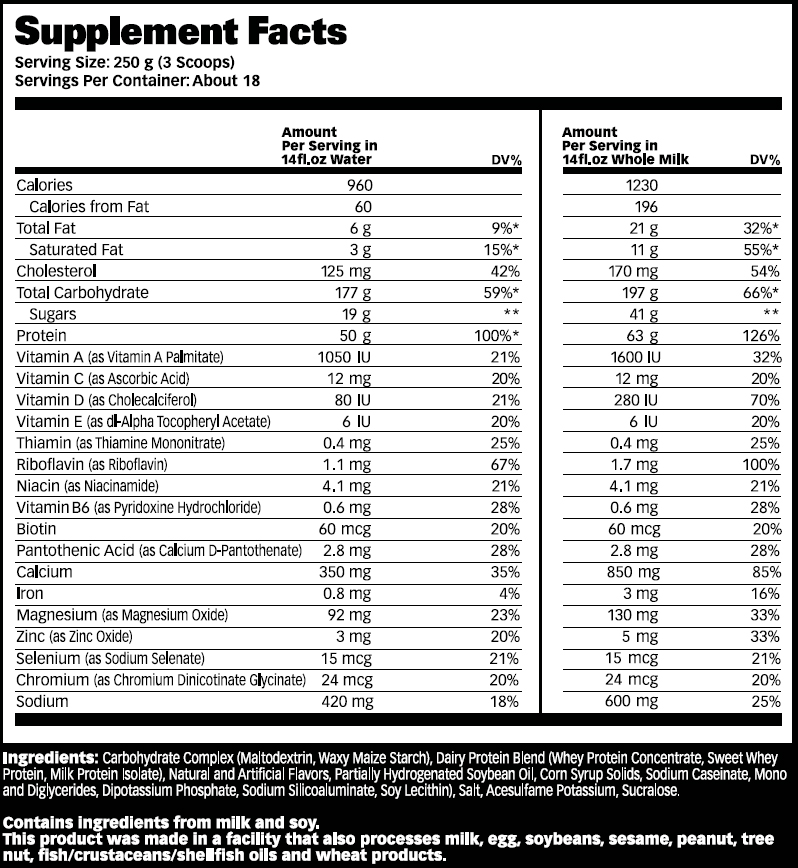 Description
Additional information
Reviews (0)
Description
GAT RADICAL MASS is a premium weight gainer delivering a HUGE 960 calories and only 6 grams of fat per serving without sacrificing a deliciously rich milkshake flavor. Fortified with key nutrients and electrolytes in a 3:1 carb-to-protein ratio providing 50 grams of high-quality proteins from our own Triple-Whey Matrix.
GAT RADICAL MASS is a perfect choice for helping to maximize glycogen synthesis for improved protein upload and recovery. GAT RADICAL MASS will help pack on size and solid muscle to improve your performance.
GAT RADICAL MASS: For real results gaining radical mass !
Directions:
Shake – Mix three scoops of RADICAL MASS per 14 fl. oz of water or milk to a shaker cup, secure the top and shake vigorously for 30 seconds.
Blend – Mix three scoops of RADICAL MASS per 14 fl. oz of water or milk to a blender and mix. For a frosty shake, add a handful of ice cubes.
When to take:
Post-Training – After a workout, RADICAL MASS immediately starts repairing and building muscle.
Between Meals – Drink RADICAL MASS between meals to maintain a positive nitrogen balance to put on lean body mass.
Recommendation: Team Power & beauty encourages you to contact our consultants that are available in our shops. Thereby you will achieve the optimization of your individual intake consistent with your training and eating plan, as well as other individual characteristics typical of each person!
Storage: Due to the complex structure of the active ingredients in this product, shake once a week and before use to ensure proper ratio of ingredients in the mixture and effectiveness per dose.
Do not use if compromised integrity. Exposure to heat, light or air can affect the taste or smell, so keep away from direct sunlight or heat and store in a cool dark place. Keep sealed when not in use.
Warning: This product is intended solely as a dietary supplement. Do not use as a sole source of nutrition. Keep out of reach of children.
Link to the original site: https://shop.teamgat.com/collections/post-training-mass/products/radical-mass-on-sale-now-10-off